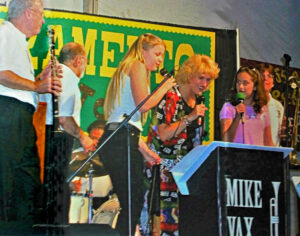 The GREAT AMERICAN JAZZ BAND (GAJB) has been performing together for over 40 years in different configurations. The group has performed for jazz festivals, conventions, hotels, resorts, fairs, high school and college concerts, cruises, and jazz societies all over the United States.
Leader Mike Vax is very active in the music education field.  He has done concerts and workshops in both the classical and jazz idioms at over 3000 high schools, colleges and universities all over the world.  He is an international performing artist for the Warburton Instrument Company.
Members of the band have performed with some of the greatest names in jazz, including: Al Hirt, Bob Haggard, Henry Questa, Pete Fountain, Maxine Sullivan, Bob Crosby, Don Goldie, The Dukes of Dixieland, and the big bands of Glenn Miller, Stan Kenton, Jimmy Dorsey, Harry James, Cab Calloway, Clark Terry and Ray McKinley.
Mike Vax and his Great American Jazz Band bring dynamic excitement to audiences wherever they appear.  Their music knows no boundaries of time or style.  The group attains a swinging jazz feel, while playing tunes from the late 1800's through today.