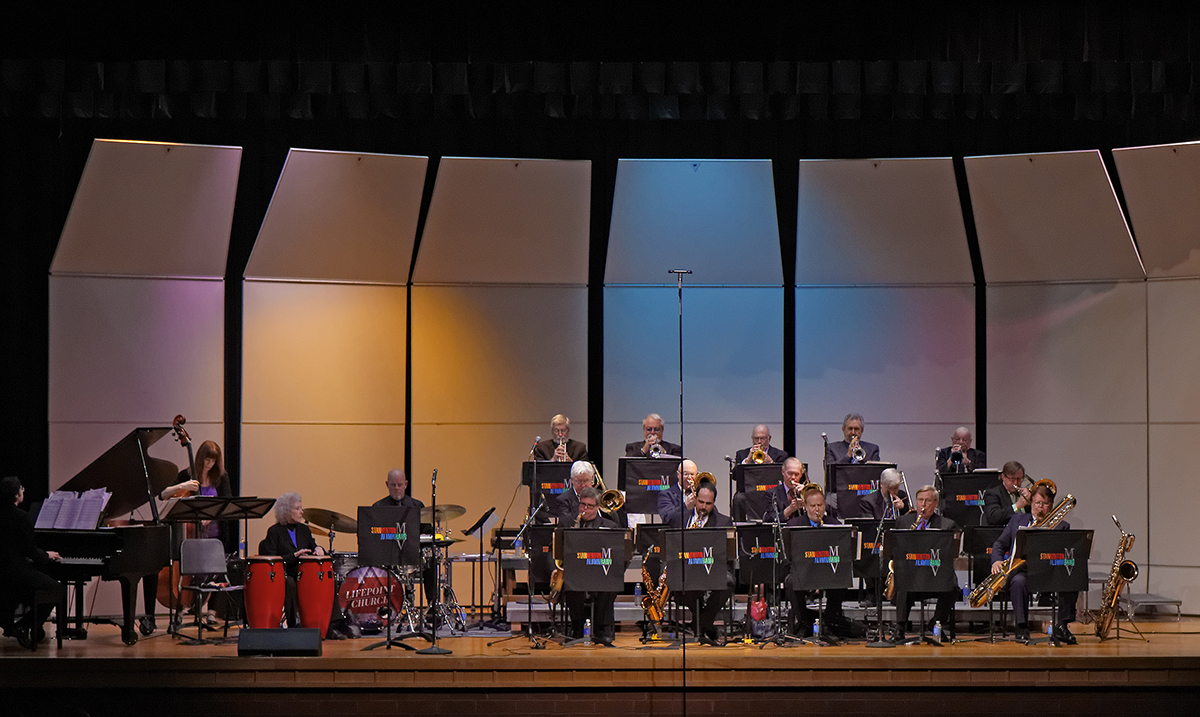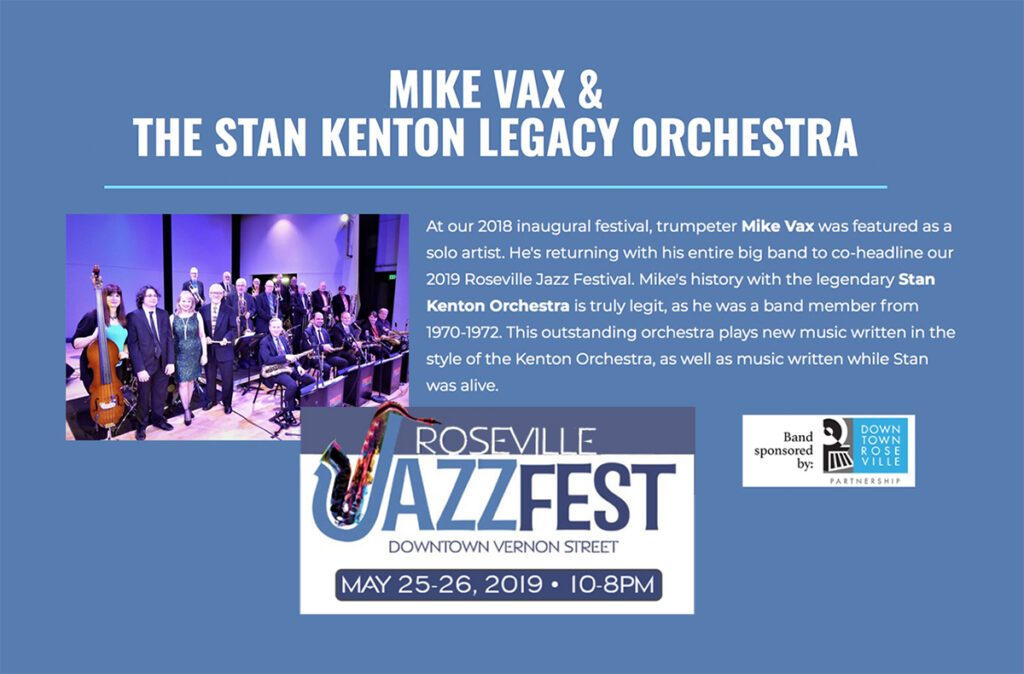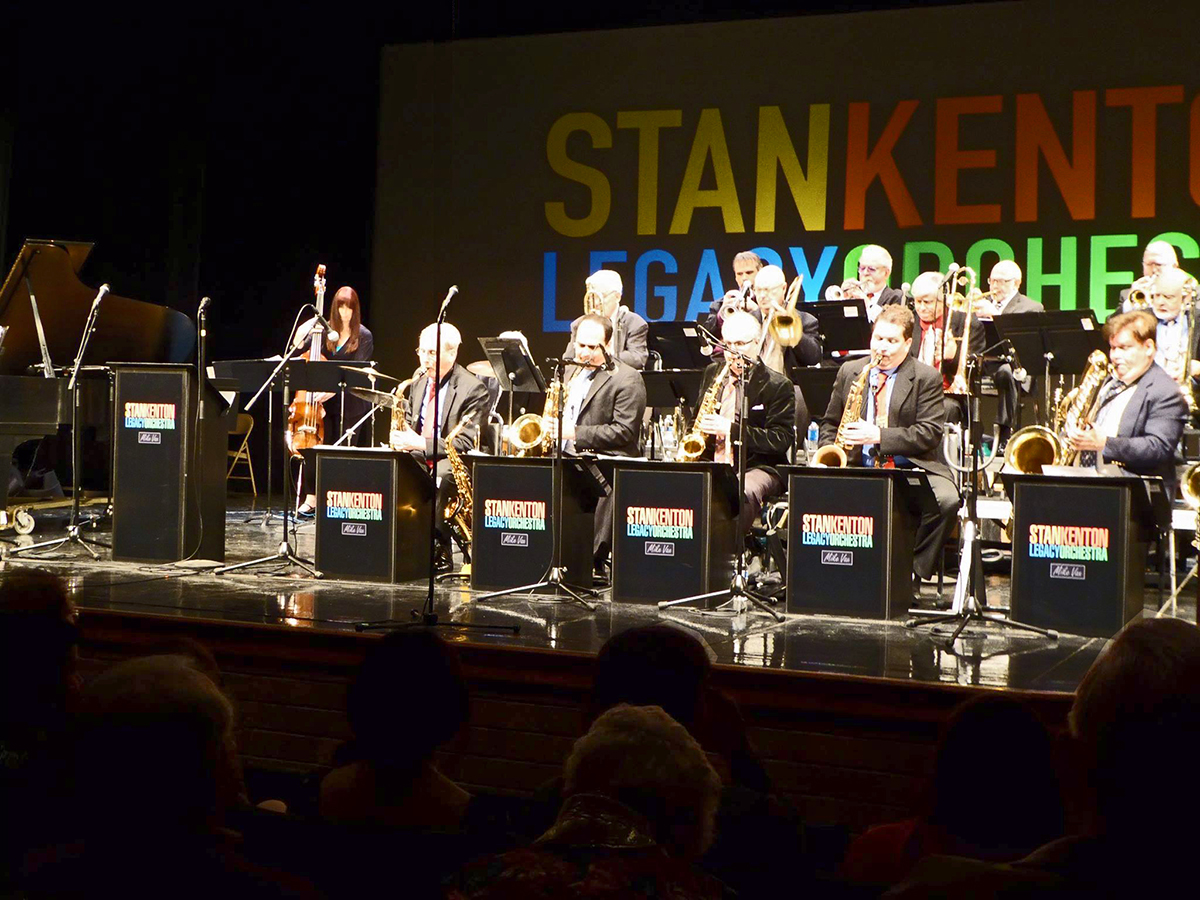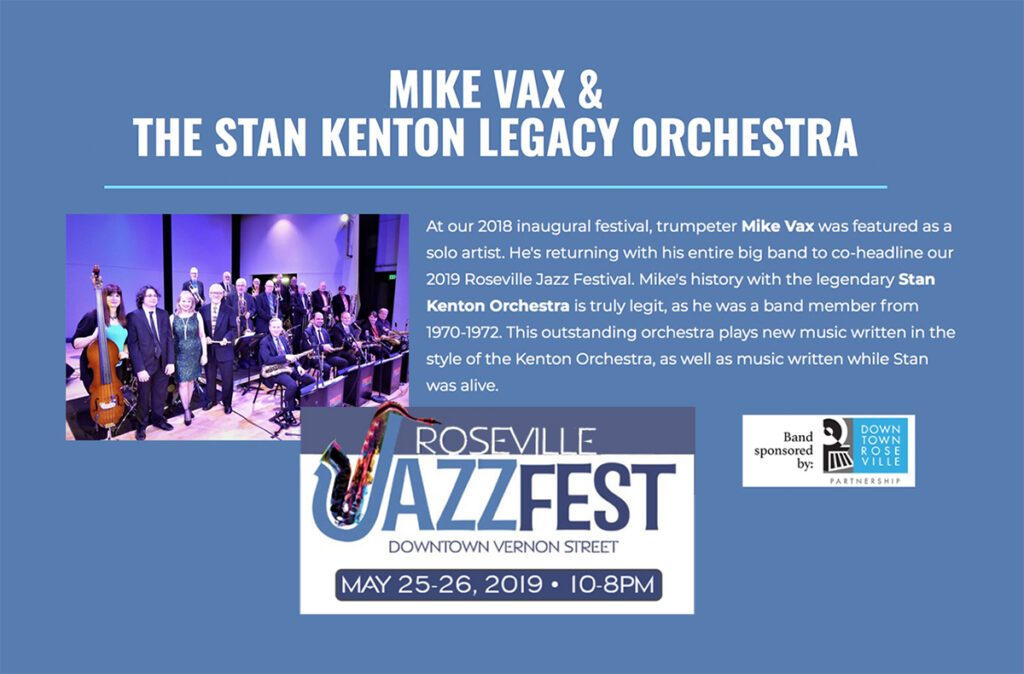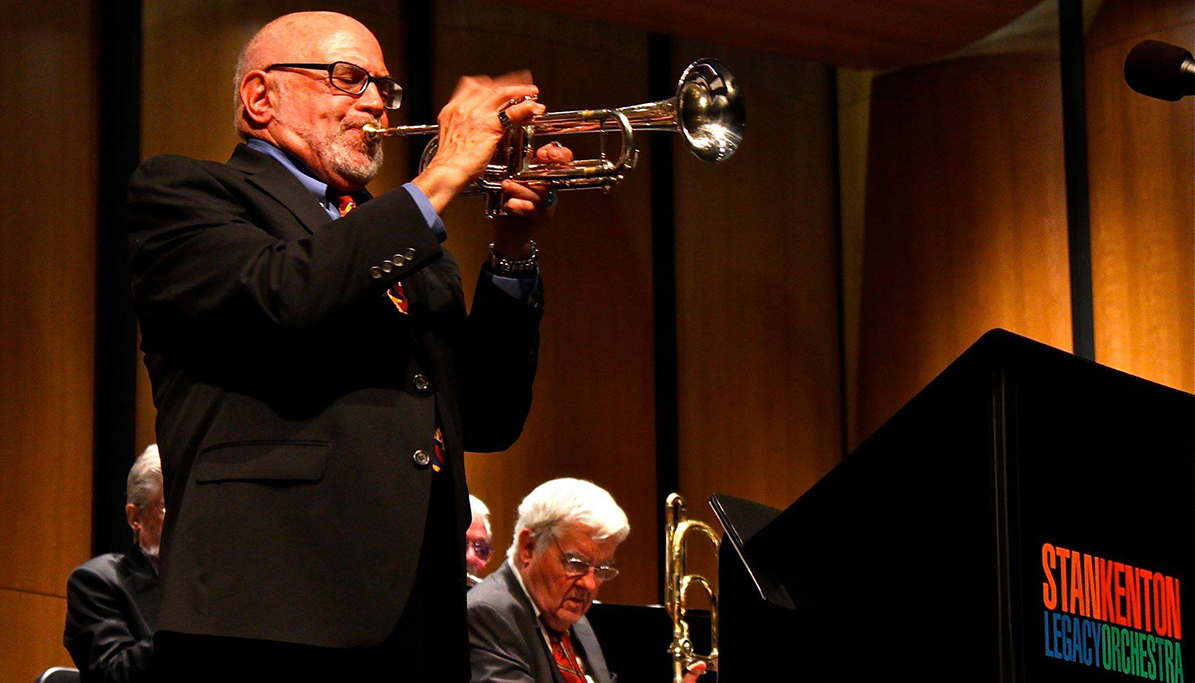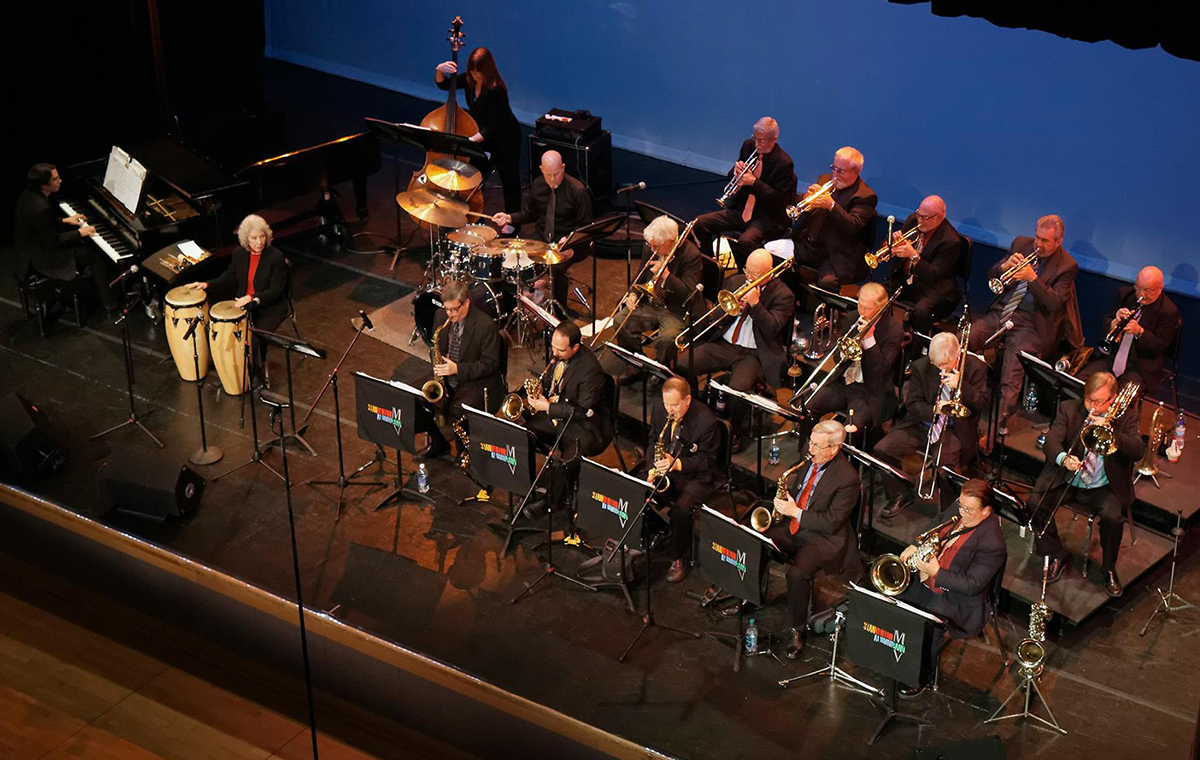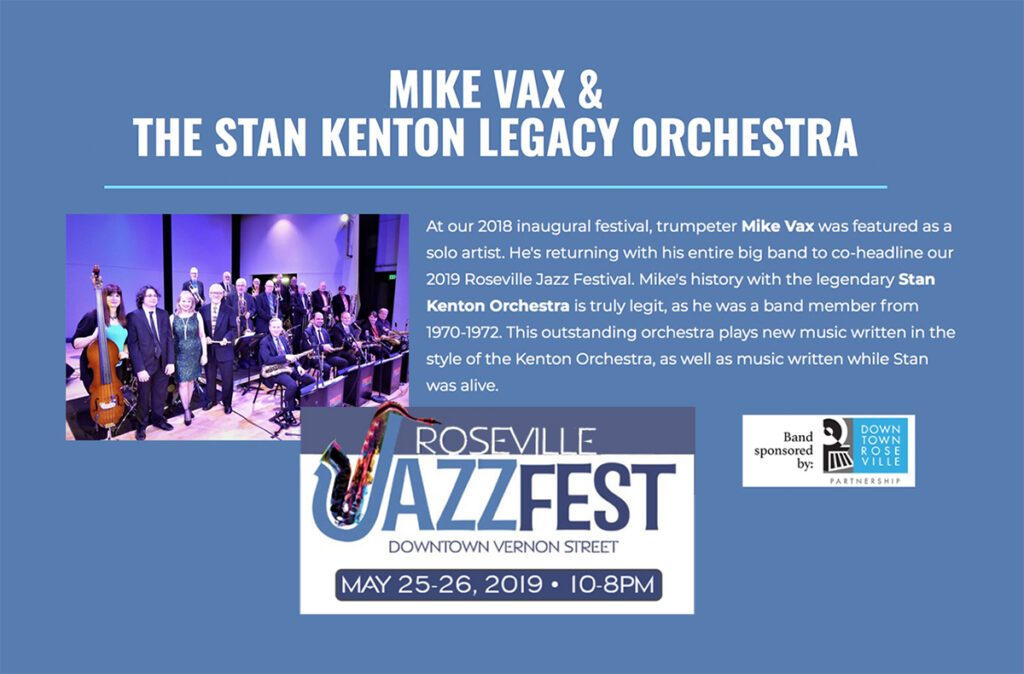 The Stan Kenton Legacy Orchestra
28 Years and Counting
With blessing of Leslie Kenton, Stan's eldest daughter – who had represented the interests of her father before her untimely passing in 2016 –  we continue to keep the Kenton Legacy alive. The band features new music written in Kenton style, plus some of Stan's most well-recognized tunes. 
Alumni from the 1956 – 1978 Stan Kenton Orchestras – plus some wonderful young new members – come together to perform for festivals, clinics, concerts, cruises and dances.
The band makes tours around the United States every year.  We perform some of the well-known music of the Stan Kenton Orchestra; plus, in keeping with Stan's insistence on not just performing nostalgia type music, we also perform fresh new material written in the Kenton style, as well as original material written by members of the Band.  We are NOT trying to be the "Stan Kenton Orchestra," but we are carrying on his tradition of dedication to creative music and to jazz education.
The goals of the band are to perform meaningful music, talk about the importance of the jazz heritage in America, bring jazz music to young people, and to offer our audiences a relaxed, entertaining atmosphere.
Leader Mike Vax has led a big band off and on since his days at College of the Pacific 60 years ago. A few of his credits include being first trumpet, soloist and road manager of the Stan Kenton Orchestra, as well as being co-leader while Mr. Kenton was recovering from surgery; playing lead trumpet in Clark Terry's Big Bad Band, leading the Dukes of Dixieland in New Orleans; producing and/or music directing for over 50 jazz festivals; and performing workshops for more than 3000 high schools, colleges and universities all over the world. Mike now lives in Northern Arizona and still travels on the road many months a year. Mike is a signature artist for The Warburton Company and plays Warburton horns and mouthpieces exclusively including the "Vaxinator" Model Trumpet.
Click anywhere on the image below to make a tax deductible donation on Paypal to the Stan Kenton Legacy Orchestra 2019 Fall Tour. Your donation will show up as a donation to the non-profit parent of the Stan Kenton Legacy Orchestra, Friends of Big Band Jazz, a 501 c 3 non-profit. Once you have donated, you will be returned to this website. Thank You!
The Stan Kenton Legacy Orchestra receives its support from FRIENDS OF BIG BAND JAZZ.
This nonprofit corporation sends students to summer jazz camps on scholarships, donates funds to high school music programs and youth orchestras, and raises money for many good causes that support music and education. Its charitable work includes supporting musicians in need.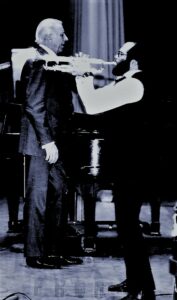 Hear the Kenton Legacy Orchestra at your School, Organization or Event!
Kenton Legacy Tour scheduled in the Midwest for Fall 2019 - Contact us for details!