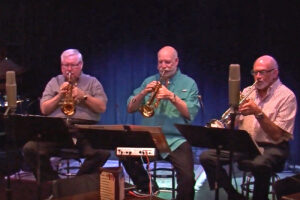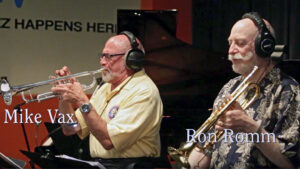 Mike Vax - Ron Romm Collaboration
Mike Vax and Ron Romm have been friends for almost 50 years.  They first met when Ron was in the fledgling group Canadian Brass, and Mike was playing lead trumpet for the Stan Kenton Orchestra, back in 1971. Their paths have crossed many times over the years, but they had never performed together until the recording session for their new CD "Collaboration." They bring together both the classical and jazz idioms in perfect harmony, since both have had a multitude of musical experience in many different styles of playing.
Jason Crafton of the International Trumpet Guild Journal writes:"This album is an engaging and entertaining release from two of the world's most prominent trumpet artists. Romm and Vax use this occasion not only to remind us of their great impact on the world of music, but also to showcase their versatility."
Famous jazz writer Scott Yanow says:"Mike Vax and Ron Romm have teamed up for a CD that will certainly interest anyone who enjoys hot and stirring playing by virtuoso trumpet players. The powerhouse trumpet playing throughout this project is a consistent joy, making one hope for future Vax-Romm "Collaborations."
Mike and Ron are available as a duo to perform with your big band, concert band, or combo; or with their fantastic group that can range from five to nine musicians.  Both are experienced clinicians who love working with music students and teaching both the artistic and the business sides of musical endeavor.
Ron Romm
Ron has appeared worldwide on the stages of most major concert venues, music festivals, and international music conferences, is widely acknowledged as one of the pre-eminent trumpeters and clinicians of today.  He was a child prodigy who began his career as a soloist at the age of ten. By age twelve Ron was a member of his family's band, the Romm-Antics, performing on live radio and television, and at eighteen he was already a veteran freelance trumpeter in Los Angeles, performing regularly with the Los Angeles Philharmonic Orchestra and the Los Angeles Brass Quintet.
Mr. Romm attended The Juilliard School in New York where he earned Bachelor and Masters Degrees and studied with William Vacchiano, legendary teacher and former Principal Trumpeter of the New York Philharmonic Orchestra.  In New York City, Mr. Romm established himself as a top freelance musician performing with every type and style of musical organization from the New York Brass Society to the New York Philharmonic to the Radio City Music Hall Symphony Orchestra to Broadway shows.
In 1971, Ronald Romm joined the newly formed Canadian Brass, which later established itself as the premiere brass ensemble in the world. In June of 2000, he retired from the group after participating in over 4,500 concerts, 60 recordings, numerous television concert specials, videos, and hundreds of master classes.  He has performed with major orchestras and with the greatest living conductors in the world.  Ron has shared the stage in live performance and recorded CDs with leading artists including Wynton Marsalis, Arturo Sandoval, Jon Faddis, Doc Severinsen, and brass performers from the Boston Symphony Orchestra, New York Philharmonic, Philadelphia Orchestra, and Berlin Philharmonic. As an educator, Ronald Romm has contributed to the growth of brass performance through hundreds of student clinics and master classes worldwide.
Mike Vax
Leader Mike Vax is an International Artist who has led a big band and his own groups since his days at College of the Pacific 60 years ago. He also played in the the U.S. Navy Show Band during his time in the service.
A few of his credits include being first trumpet, soloist and road manager of the Stan Kenton Orchestra, as well as being co-leader while Mr. Kenton was recovering from surgery; playing lead trumpet in Clark Terry's Big Bad Band, leading the Dukes of Dixieland in New Orleans; producing and/or music directing for over 50 jazz festivals; and performing workshops for more than 3000 high schools, colleges and universities all over the world.
Mike now lives in Northern Arizona and produces the Prescott Jazz Summit and directs and promots the Stan Kenton Legacy Orchestra. He still travels on the road many months a year and looks forward to many more performances with Ron Romm.
As an educator, Mike has traveled the globe. He is the Chairman of the Board of FRIENDS OF BIG BAND JAZZ, the support group for The Stan Kenton Legacy Orchestra, the Prescott Jazz Summit and numerous other charity ventures. The nonprofit corporation sends students to summer jazz camps on scholarships, donates funds to high school music programs and youth orchestras, and raises money for many good causes that support music and education.
Mike is a signature artist for The Warburton Company and plays Warburton horns and mouthpieces exclusively, including the "Vaxinator" Model Trumpet.